Hello and welcome to the Big World Out There!
My name is
Timothy Tye
and this is my website. I created it to assemble information on every country in the world. Join me at the
Big World Out There Facebook Group
, and share your photos and travel tales with us!
Booking Hotel Rooms for your trip
Most travellers agree that accommodation forms a major portion of every travel expense. The choice of hotel we select for our trip may greatly impact our enjoyment. Feeling comfortable, at ease, and in many instances even pampered, if often a good reason for making the trip is the first place. For that reason, you should do a bit of homework in choosing the most appropriate hotel.
Big World Out There helps you make sensible decisions with a selection of articles to help you find the hotel for your trip.
General articles on booking hotel rooms
Destination-specific Articles on booking hotel rooms
Angkor
Bangkok
Kuala Lumpur
Langkawi
Macau
Penang
Singapore
Checking Up Hotels
Now Big World Out there provides you a list of hotels for major cities of the world which we have checked out. We will show you the location of the hotel using Google Maps Street View, and provide you matter-of-fact information to help you make informed decisions when booking hotel rooms for your trip.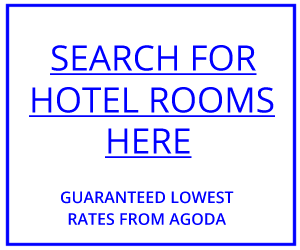 Latest Pages & Updates
About me
Hello and welcome to my website, Penang Travel Tips, yay!

My name is Timothy Tye. I write this website, and continue to update it regularly, to share with you everything that I know about the world. It is one of my several travel websites, which include Penang Travel Tips and Exploring Malaysia. To know more about me, visit my website, www.timothytye.com.

Help me keep my pages updated. If you found errors, please do kindly let me know. For all correspondences, click here to contact me. Thank you for visiting, and have a great day!
Copyright © 2003-2015
Timothy Tye
.
All Rights Reserved.