Nakhon Ratchasima
http://commons.wikimedia.org/wiki/File:Non-Sung-30160-Thailand-Main-Road_2.JPG
Talkrabb
Nakhon Ratchasima
นครราชสีมา

, popularly known as
Khorat
โคราช

), is the biggest city in the Isaan region in eastern Thailand. It is also the district capital and provincial capital of
Nakhon Ratchasima Province
. The city has a population of 146,000 people.
Thao Suranaree statue, Nakhon Ratchasima
http://commons.wikimedia.org/wiki/File:Thao_Suranaree_statue.jpg
Ahoerstemeier
Nakhon Ratchasima was originally two separate cities namely Khorakhapura (also called Nakhon Raj) and Sema. Being on the east part of Thailand near the border with Cambodia, the city was part of the greater Khmer empire until the 14th century.
The present city of Nakhon Ratchasima, whose name is a portmanteau of Nakhon Raj and Sema, was established by King Narai (1656-88) as the eastern frontier of his kingdom centred on Ayutthaya. Nakhon Ratchasima developed into a powerful city. After the fall of Ayutthaya, it acted as the frontier centre overseeing vassal kingdoms of Laos and the Khmers.
In more recent history, Nakhon Ratchasima was the base of the October 1933 uprising against the 1932 Revolution that ended the absolute monarchy of Siam. It was also used as a United States military base during the Vietnam War.
The city has little to offer tourists. Nonetheless there are a few sights that you might want to visit. Outside the city, however, is Prasat Hin Phimai, one of the most important ancient Khmer ruin outside Cambodia.
Prasat Hin Phimai
http://commons.wikimedia.org/wiki/File:Phimai-pano-3.jpg
Ddalbiez
Travel to Nakhon Ratchasima (Khorat)
There are many buses between Bangkok and Khorat. The companies selling tickets to Khorat are at counter 49, 50 and 52 on the top floor of the terminal. The fare is around ฿200 one way.
Alternatively, you can take a train to Khorat from Hualamphong Railway Station. The first class ticket costs ฿230 while the second class costs ฿115.
Travel within Nakhon Ratchasima (Khorat)
The most ubiquitous form of transportation in Khorat are the tuk-tuks and motorcycle taxis. Another form of transport are the songthaews, or passenger pick-up trucks. The name "songthaew" actually means "two benches" - which are self explanatory as soon as you climb on board. Songthaews usually follow specific numbered routes like mini buses. A ride anywhere in town by tuk-tuk will cost you ฿50-100 while a ride on the motorcycle taxis will be around ฿40. If you find a reliable driver, negotiate to use him for the whole day.
Places of Interest in Nakhon Ratchasima
Khorat Night Market
A good place to try out the street food and buy some local products.
Maha Weerawong Museum
Museum within the grounds of Wat Suthachinda with artifacts from Khorat's past.
Muang Sema
Ruins of the ancient city of Sema dating to the 7th or 8th century AD.
Thao Suranaree Monument
Monument commemorating the heroic woman Khunying Mo, who led a successful defence of Khorat against the Laotian army in 1826.
Wat Phra Narai Maharat
One of the most famous temples in Khorat, this one has an ancient sandstone statue of the Hindu deity Vishnu.
Wat Sala Loi
The name means "Monastery of the Floating Pavilion", this is a modern Buddhist temple on the banks of the Lam Takhong River.
Sights outside Khorat
Ban Prasat Archaeological Site
Site where 3000-year-old artifacts were discovered.
Khao Yai National Park
The first national park in Thailand, home to 3000 species of plants and 200 species of animals.
Prasat Hin Phanom Wan
Ancient Khmer stupa outside Khorat City.
Prasat Hin Phimai
Famous ancient Khmer ruins in Phimai town outside Khorat City.
Wat Dhammachaksemaram
Ancient ruin with a 13-meter reclining Buddha statue in Sung Noen district of Nakhon Ratchasima.
Wat Khao Chan Ngam
Temple where prehistoric remains were discovered.
Wat Thep Phitak Punnaram
Temple with a large white Buddha statue overlooking the road.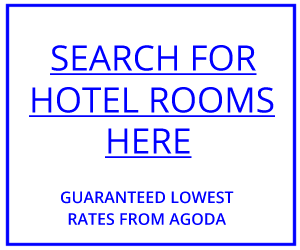 My Latest Pages & Updates
About me
Hello and welcome to my Big World Out There website, yay!

My name is Timothy Tye. I write this website to share with you everything that I know about the world. It is one of my several travel websites, which include Penang Travel Tips and Exploring Malaysia.

As a Christian, I write this website so that God's Good News can reach every corner of the world and connect with those needing it.

To know more about me, visit my personal website, www.timothytye.com. To ask me a question or if you found an error, please let me know. You can reach me here. Thank you for visiting, and have a great day!
Copyright © 2003-2016
Timothy Tye
.
All Rights Reserved.